Trekking is a wild experience to walk on great mountain ranges and enjoy the most beautiful and unspoiled natural scenery. Resorts in Munnar ,mostly suggest visitors about nearby trekking spots  for enjoying Munnar in its full strength.
When we think about trekking ,Himalayas and Northern mountain ranges came in to our mind, but actually in Munnar we have a lot of best trekking spots  which promise some breathtaking experiences.
Best Trekking spots in Munnar
Chithirapuram

Kannan Devan Hills

Chummar

Chokramudi
In Chithirapuram: green beds will surround you while trek to the hills .You can walk to the chithirapuram bridge through the tea estate and many crop plantations. Also you can have best resort for family in Munnar at chithirapuram.
Kannan Devan Hills: get the glimpse of Idukki Arch Dam ,when you trek through the Kannan Devan hills.
Chummar: Magnificent view of  greenmeadows and shola forest can be explored in chummar hills.
Chokramudi: A combination of shola walk, grass stroll, steep climb and dangerous terrain.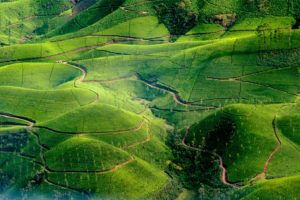 How to prepare for trekking?
Top rated resorts in Munnar arranges local guides, snacks, water bottle  and climbing tools for trekking travellers to make trekking more comfortable.
Since these are forest area,you have to expect disturbances from elephants, snakes and other wild animals. Always take the help of a guide and study well about  the routes before start trekking. Enjoy trekking in Munnar….