When you walk through the Tea  gardens of Munnar, you wish to have a hot and tasty tea. 
Have you ever heard of Tandoori chai, a new trendy tea in Kerala. If you visit three star resorts in Munnar, let's try on Tandoori tea from the land of tea tastes.
What Is a Tandoori Chai?
Tandoori chai is a unique variety of Indian tea, prepared in clay hot pot.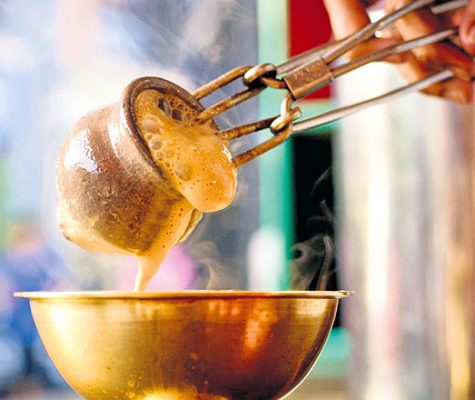 Ingredients of Tandoori Chai
Milk

Water

Tea Leaves

Sugar

Lemon Grass

Mint Leaves

Tea Spices
Preparation
Place the clay pot on a flame and heat it up for  10 minutes on a medium flame.

Prepare the tea by boiling the water and adding sugar, tea leaves, lemon grass, mint leaves,  tea masala and once the water is boiling add the milk and boil for 2 more minutes.

Using a tea strainer remove the tea in a glass jar.

Using tongs place the clay pot in a deep pot, and start pouring the hot tea in it.

You will start seeing that the tea is bubbling in the clay pot and oozing out.                                                                                                                                                                                           A cup of tea can make everything better, stop having the same tea all day. Enjoy finding and tasting new varieties of Tea like Tandoori Tea. Best resorts in Munnar can offer you best tea varieties on your Munnar vacation.